What You Missed at Rebel Wilson X Angels' Holiday Launch Party
Learn about the Rebel Wilson X Angels' latest collection inspiration and how the actress kicked off the holiday season with us.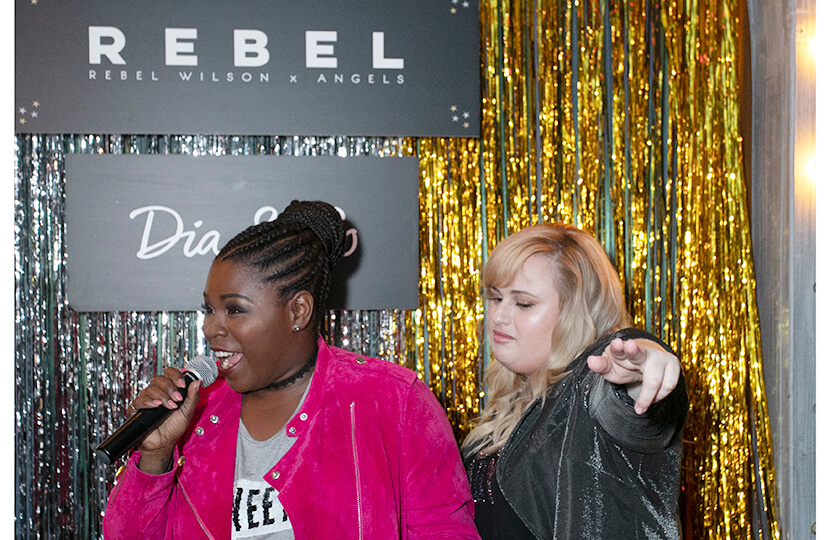 All of us at Dia&Co are big fans of Rebel Wilson—she's hilarious, making serious waves in the entertainment industry, and she's here to #movefashionforward by bettering the fashion industry to serve women sizes 14 and up.
To properly greet the arrival of Rebel's holiday line, we teamed up with Rebel Wilson X Angels to throw a launch party based on the inspiration for Rebel's holiday collection, "Salty or Sweet." The night featured salty-and-sweet-themed cocktails and bites and an on-theme performance by Broadway star, Tiffany Mann. We were so excited to get the chance to interview Rebel on Facebook Live and in the video below.
While Broadway actress Tiffany Mann sang, Rebel danced with some of her favorite pieces from the collection. Tiffany wore a signature shirt from the collection, featuring sequins that read, "Sweet," in one direction, but when you glide your hand over the sequins, the message changes to read, "Salty." To reflect the inspiration for the collection, Tiffany came with a set of sweet songs to get the night started and a set of salty songs to close it out. Once her sweet songs were complete, Tiffany transformed her tee to read, "Salty," and came back out with a new set of songs that were not so sweet. Everyone was singing along, dancing, and blown away by Tiffany's incredible pipes.
While Tiffany was on break, Rebel addressed the partygoers and introduced Dia&Co CEO Nadia Boujarwah. Rebel shared her hope in helping change the narrative for plus size actresses in Hollywood with her upcoming movie Isn't It Romantic, a rom-com in which Rebel plays the female lead opposite fellow Aussie Liam Hemsworth releasing on Valentine's Day 2019. She explained that she expected that she would be cast as the funny best friend, the way that most plus size actresses are, and was happily surprised when she landed the lead, noting she'll be one of too few plus size women to play a female lead in a Hollywood romantic comedy.
Later in the evening, Dia&Co's own Ashby interviewed Rebel on Facebook Live and we played one of our favorite games: This or That—here's what we learned about Rebel.
Ashby: Salty or sweet?
Rebel: Sweet.
Ashby: Mani or pedi?
Rebel: Pedi.
Ashby: Ocean or pool?
Rebel: Pool.
Ashby: Hotel or AirBnB?
Rebel: Hotel.
Ashby: N*SYNC or Backstreet Boys?
Rebel: N*SYNC because Justin's my neighbor here in New York.
Ashby: Mermaid or unicorn?
Rebel: Mermaids—100%.
Ashby: Bikini or one-piece?
Rebel: One-piece. I wouldn't wear a bikini voluntarily.
Ashby: Karaoke or acapella?
Rebel: A capella, of course! I actually hate karaoke. It never sounds good.
Ashby: Liam Hemsworth or Chris Hemsworth?
Rebel: I have to say Liam because he's in my movie, Isn't It Romantic.
Ashby: But what's the truth?
Rebel: I love them equally! I love everyone in their family!
Ashby: Faux fur or faux leather?
Rebel: Well, you have to have faux fur!
Ashby: Sequins or glitter?
Rebel: Sequins. Glitter is the herpes of fashion.
Ashby: Dinner or brunch?
Rebel: Dinner.
Ashby: Cats or dogs?
Rebel: I'm allergic to both, but I'm gonna say cats because I'm in the new movie, Cats.
Ashby: Batman or Spiderman?
Rebel: Batman.
Ashby: Early bird or night owl?
Rebel: Night owl, definitely.
Ashby: Cheese or chocolate?
Rebel: Chocolate. But I can get into a cheese board, as well. But if I had to choose only one for the evening, I'd go chocolate.
Ashby: Australia or America?
Rebel: You can't ask me my national allegiance!!! I'd say America for work and Australia for way of life.
Ashby: What's great about Australia's way of life?
Rebel: We're all so chill and relaxed. But America is where the work is, it's the best in the entertainment industry. I had to come here like all of the talented Australians!
Are you excited about Rebel Wilson's plus size clothing line? We love that she's exclusively serving plus size women sizes 14 and up and including playful and edgier styles that too often we don't often get to see in the plus fashion offerings. Interested in trying Rebel Wilson X Angels in your next Dia Box? Let your Dia Stylist know.